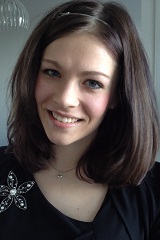 Elisa Huovinen (1989, Finland)
Elisa Huovinen started violin studies in Turku Conservatory in 1994, followed by piano and singing studies in 1998 and 2003, respectively. In 2008, E. Huovinen was accepted to Sibelius Academy music education department, and she graduated as bachelor of music in 2012.
Currently, in frames of exchange programme she is studying choral conducting with Prof. Tõnu Kaljuste in Estonian Academy of Music and Theatre before graduating as master of music from Sibelius Academy conducting department.
Since January 2013, E. Huovinen has been the artistic director of Addictio chamber choir (Helsinki). They achieved Golden Diplomas both in Finland (Tampereen Sävel) and in Italy (In…Canto sul Garda) during 2013. E. Huovinen is also the assistant conductor of chamber choir Kampin Laulu (Helsinki) since 2009, and she's regularly requested to substitute conductors in major Finnish choirs (e.g. Tapiola Choir, Helsinki Philharmonic Chorus, Finnish Vocal Ensemble). In addition, E. Huovinen has sung in numerous choirs, both amateur and professional (e.g. Savonlinna Opera Festival Choir, Helsinki Chamber Choir).
E. Huovinen educates herself regularly in international conducting masterclasses (e.g. with Peter Hanke, Frieder Bernius, Volker Hempfling, Georg Grün) and she's active in choral culture. In Finland, she was made the member of the board of The Finnish Choral Directors' Association in 2014.