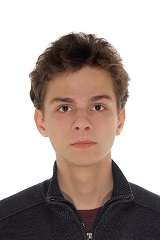 Martynas Stakionis (1996, Lithuania)
Martynas Stakionis graduated from Vilnius School of music Ąžuoliukas where he began to learn from age of five. In 2011 Martynas entered the National Mikalojus Konstantinas Čiurlionis School of Arts as a choral conducting student where he currently studies under Romualdas Gražinis, a conductor.He also has orchestra conducting lessons with Martynas Satškus, a Lithuanian orchestra director and conductor. Martynas regularly takes part in annual school events and concerts, among them the festive opera staged by senior students of the National M.K.Čiurlionis School of Arts (The Curious Case of Benjamin Button, 2014).
He has collaborated with performers such as Nora Petročenko, Viktoras Gerasimovas, Art Vio, St.Christopher Chamber Orchestra, the choir Aidija,etc. In April 2014, he debuted as an orchestra conductor in Kaunas State Philharmonic with VDU music academy chamber orchestra.
His professional achievements include: the 3rd place winner diploma of The Herman Perelstein Young Choir Conductors Contest in Vilnius, 2010; the 1st place winner diploma of The Ninth Republican Religious Music and Arts Young Choir Conductors Festival-contest in Panevėžys, 2012; Choir prize in The First International Imants Kokars Young Choir Conductors Competition in Riga, 2013; the 2nd winner diploma, choir prize and award for the best interpretation of the scene from opera in National Jonas Aleksa Young Choir Conductors Competition in Vilnius, 2014.