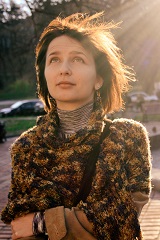 Olga Prykhodko (1986, Ukraine)
Since 2011 Olga Prykhodko has been doing a postgraduate course at P.Tchaikovsky National Music Academy of Ukraine, Department of Music Theory, Kiev.In 2011, she took part in study program of the 6th International Competition for Young Choral Conductors in Pomaz-Budapest, Hungary. The same year she participated in 4th National Competition for Choral Conductors in Kiev. O. Prykhodko was an active participant in the European Academy for Choral Conductоrs (Graz, 2012) with Prof. Johannes Prinz.
In 2010, she initiated a vocal ensemble of contemporary music Alter Ratio, currently being its leader and conductor. The ensemble takes part in different music and art festivals in Ukraine. In 2013, it won Grand Prix at the Victoria International Competition (Ukraine, Kiev). In 2013, a CD The Noel Consort was released with series of European carols in a new and original arrangement by the contemporary Ukrainian composer Svyatoslav Lunyov for Alter Ratio.
From 2010 to 2013, she worked as a choirmaster at the Cathedral Catholic Church in Kiev. At present she works as a Main Cantor at the Institute of Religious Sciences named after Thomas Aquinas. As a professional singer she also sings in chamber choir Credo, performing different programs - from European and Ukrainian early music to modern music around the world. They won the Grand Prix in Tolosa (Spain, 2012) and took part in Grand Prix of Europe in Arezzo (Italy, 2013).