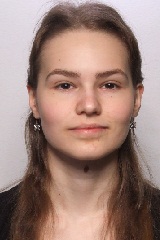 Kristina Petrić (1994, Serbia)
Kristina Petrić was born in Italy. Her musical education began at age of 12. She graduated from Music High School, flute and music theory department. She has also mastered in harp but currently she is learning solo singing.
She started to learn conducting with Jelena Radunović and Milan Nedeljković. In 2013 she studied conducting with Professor Biljana Radovanović at the Faculty of Music Arts in Belgrade. She has received many awards in national and international competitions. She was a member of the Youth Philharmonic Orchestra Borislav Pašćan, the chamber orchestra of the music school Stanković, as well as chamber music duo Smile and Arpedjato. She attended a workshop Bistrik - original Balkan singing From the source to the stylization where her mentor was a musicologist and singer Biljana Krstic.
Kristina is an active chorister. She has performed in many concerts and competitions with the Music School Stanković and Mokranjac choirs and also the choir Vox Slavicum where she is assistant conductor. In 2014, the choir Vox Slavicum, conducted by Kristina Petrić, won a special prize for authentic performance of spiritual music at the festival Choirs Among Frescoes. K. Petric has received Scholarship of the City of Belgrade in 2011 and 2013 for excellent grades and contribution to the art for young artists.In June 2014 she organized and conducted the concert S. St. Mokranjac and the Heirs of His Road, in honor of the 100th anniversary of the death of this most significant Serbian composer of choral music.