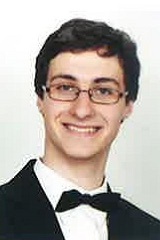 Algirdas Biveinis (1992, Lithuania - Austria)
Algirdas Biveinis is studying choral conducting at  University of Music and Performing Arts Graz, Austria (prof. Johannes Prinz and Ewald Donhoffer conducting class).
His musical talent was noticed in early age by his father, a third generation organist. In 2002, he became a prize winner of the National Singing Competition Song of Songs. In 2003-2012, he studied conducting in M.K.Ciurlionis School of Arts in Vilnius, Lithuania under Romualdas Grazinis. In the final choral conducting exam he conducted his own choral piece Creation…. In 2010 and 2012, he won the first place in the National Jonas Aleksa Choral Conducting Competition for schools.
In 2013, he took part in the International Orchestra Conducting Course in Cittá di Castello, Italy, under prof. Martin Sieghart.
Since 2013 he has been taking part in Graz Opera productions as a choir singer (A. Schönberg's Gurrelieder, C. Orff's Carmina Burana).In May 2014, he conducted in SEKEM Österreich 10th anniversary Gala Concert. Since 2014 – a leader of a vocal men´s ensemble Die Liederlichen in Graz, with which he performs in Styria, south-east of Austria.