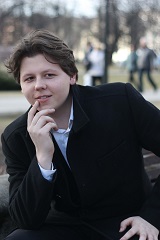 Aivis Greters (1993, Latvia)
Aivis Greters currently is a 2nd year student studying choir conducting at the Jāzeps Vītols Academy of Music under Jānis Lindenbergs. He graduated from the Riga Dome Choir School where he learned choir conducting under Valdis Bernhofs. During his studies he has actively participated in various concerts, recordings and opera events together with the Riga Dom Cathedral Boys Choir.
Since 2014 A. Greters has been working as the chief conductor of the mixed choir Dziesmuvara of the University of Latvia in which he started his conductor's practice in 2009 as a choir master.
He joined the youth choir Kamēr... as a singer in 2009, but in 2012 he became its second conductor. He is involved in regular singing projects together with the State Academic Choir Latvija, with which he has participated in the performances of G. Mahler's 2nd and 8th symphony, L. V. Beethoven's 9th symphony, G. Verdi's Requiem and other large-scale pieces. In 2013, A. Greters won the 1st place in the Imants Kokars 1st International Young Conductors Competition for his splendid interpretation of J. Ivanov's work Jūsma, while in the international choir competition 27' Praga Cantat A. Greters received a special prize for the best interpretation of his composition Gloria as the conductor of the mixed choir of the University of Latvia Dziesmuvara.