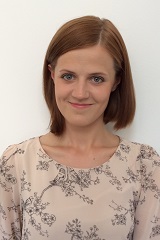 Krista Audere (1989, Latvia)
Krista Audere graduated from Riga Dome Choir School with a choir master and choral singer diploma in 2009. In 2013, she received a choral conducting bachelor diploma at Jāzeps Vītols Latvian Academy of Music. She also gained her musical experience at University of Music and Performing Arts Stuttgart. In 2013, she started the master exchange program in choral conducting at the Conservatorium van Amsterdam and is now continuing her studies at the Conservatory van Amsterdam as a full-time master program student.
She was the main conductor of the Latvian University mixed choir Dziesmuvara (2008-2014) as well as the second conductor of the VEF Culture Palace female choir Dzintars (2010-2013).
As a singer she collaborated with the youth choir Kamēr… (2005-2008) and also performed with the vocal ensembles Anima Solla (2010-2012) and William Byrd Consort (2011). Since 2011, she has regularly collaborated with the prestigious Latvian Radio Choir. Besides, since 2013 she has been a member of the Tenso European Chamber Choir and participated in the new singers project Meesters&Gezellen in the Netherlands (2014).