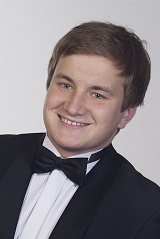 Jurģis Cābulis (1992, Latvia)
Jurģis Cābulis started his professional life in music and conducting in 1999, in Riga Dome Choir School. From 2001 to 2012 he actively performed in various concerts together with Riga Dom Cathedral Boys Choir all over the world.
Since 2012 J. Cābulis has been studying choir conducting in Jāzeps Vītols Latvian Academy of Music under Andris Veismanis.
From 2011 to 2013 he worked in one of the best Latvian amateur choirs Swedbank Koris. During this period of time, in 2013, a gold medal was won in the 1st European Choir Games in Graz, Austria. In 2010, Jurģis founded Carnikava chamber choir Vēja balss whose conductor he currently is. In April 2012, he participated in the VII International Choir Conductors Competition in Saint Petersburg. Since November 2013 he has been working as a conductor in the professional Riga Chamber Choir Ave Sol.