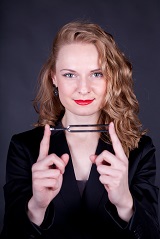 Viktoriia Vitrenko (1990, Ukraine - Germany)
Viktoriia Vitrenko, born in Ukraine, is a conductor and singer. She graduated from the National Musical Academy of Ukraine (BA in choral conducting). Since 2013 she has been proceeding with her musical education at the State University of Music and Performing Arts in Stuttgart, Germany, by Prof. Denis Rouger (Bachelor, Choral Conducting) as well as by Pr. Angelika Luz and Yasuko Kozaki (Master, Vocal Art in Contemporary Music).
From 2009 to 2013 she conducted the Chamber Choir of the National Technical University of Ukraine. From 2010 to 2014 she was an artistic director and a chief conductor of the female vocal ensemble Making Waves. It has given more than 50 performances in Ukraine and abroad (Russia, the UK, Norway, Macedonia, Greece, France). She has won a number of choral competitions among which are Florilege Vocal de Tours (the 3rd prize and Public's Prize, Tours, France, 2014), Ohrid Choir Festival (1st prize and diploma for The best expressive performance Ohrid, Macedonia, 2013) and Singing World (1st prize and diploma for The best solo singer, Saint Petersburg, Russia, 2012).
As a singer she is a member of the SacriEsta ensemble. In 2014, Vitrenko received a fellowship from the German program Dirigentenforum and a scholarship from the Oscar und Vera Ritter Stiftung.