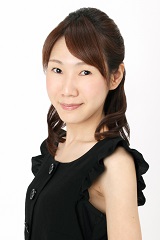 Ayaka Ueda (1986, Japan - Estonia)
A choral conductor, singer and pianist, Ayaka Ueda was born in Ōita, Japan. She received a Bachelor of Music in Music Education with Certificate in Choral Conducting from Kunitachi College of Music (Tokyo, Japan). Her choral conducting teachers include Kazuki Yamada, Chifuru Matsubara, Ko Matsushita, Chikara Imamura and Teturo Hanai, and she is currently studying at Estonian Academy of Music and Theatre (Tallinn, Estonia) under Tõnu Kaljuste.
A. Ueda is theco-founder of Harmonia ensemble (Tokyo, Japan) and had served as its first Music Director between 2009 and 2012. Under her direction, the ensemble has received various choral honors and awards in Japan, and, most notably, won Grand Prix at Florilege vocal de Tours in France in 2011, and participated in European Grand Prix for Choral Singing 2012 in Maribor, Slovenia.
As a choral singer, Ms. Ueda has participated in the World Youth Choir 2008 and 2009, as well as the Asia Pacific Youth Choir 2011 and 2012 (the soprano section leader in 2012).