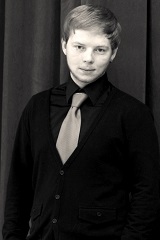 Dmitry Matvienko (1990, Belarus - Russia)
Dmitry Matvyenko was born in Minsk, Belarus. At the age of 6 he started to learn music in the National Gymnasium-College of Belarusian State Academy of Music. From 2009 to 2012 he studied in the Rimsky-Korsakov St. Petersburg State Conservatory at the choral conducting department (professor T.I.Nemkina). He has worked in the Perm Opera and Ballet Theatre as an artist of the choir in MusicAeterna (music director Teodor Currentzis).
In 2013, he continued studying in the Moscow Conservatory under prof. S. Kalinin. In addition, he took classes in symphonic conducting. While studying in Russia he joined different choirs and groups such as the Smolny Cathedral Chamber Choir, the choir of Mariinsky Theatre, the Perm Theatre chamber choir MusicAeterna, Intrada vocal group, DedooX vocal group, etc. He also took part in master classes with such famous vocal groups as The King's Singers, Hilliard Ensemble and participated in the recordings of such operas as W.A. Mozart's Cosi fan tutte and Le nozze de Figaro in the Perm Tchaikovsky Opera and Ballet Theatre (Sony Classical).