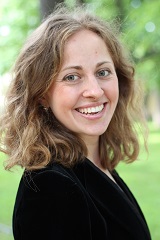 Alexandra Makarova (1986, Russia)
Alexandra Makarova in 2005, graduated from Saint-Petersburg Music College named after N. A. Rimsky-Korsakov, choir conducting faculty. In 2010,she graduated from Saint Petersburg State Conservatory (Academy), choir conducting faculty (prof. B. Abalyan). Currently she is doing her post graduate degree in Saint Petersburg State Conservatory.
Alexandra is a prize winner of the 1st All Russian and international choir conducting competitions; in 2009 – the fourth place and a special prize at Jazeps Vitols 4th International Choral Conductors Competition (Riga, Latvia); in 2011- the third prize at the 1st All Russian Choir Conducting Competition (Moscow, Russia); in 2014-the 1st prize in International Competition of Choir Conductors named after prof. Boris Tevlin (Moscow, Russia).
In 2005-2010 she was a conductor of Youth Choir of Lyceum of Arts, Saint-Petersburg, in 2011-2013 – a conductor of students' choir of Gracias Music Preparatory school (Daejeon, South Korea). In 2011, under her leadership the choir got a silver medal in the International Choir Competition in Busan (South Korea) and made a trip to South Asia Countries as India, Vietnam and Cambogia.
Since 2008 is leader and conductor of Festino Chamber Choir which unites 16 young choir conductors from Saint-Petersburg and its repertoire includes Renaissance and baroque music as well as modern pieces. In 2013, Alexandra founded a chamber choir of Saint-Petersburg State Polytechnical University. Choir is taking part in concerts and festivals in Saint-Petersburg and abroad.