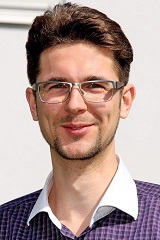 Philipp Klahm (1985, Germany)
Philipp Klahm started his musical education in piano, trumpet and vocals at the Academy of Music in Calw, Germany.
From 2007- 2011 he studied Conducting at the University of Music, in Karlsruhe, Germany with Prof. Martin Schmidt, Prof. Frank Leenen and Stefan Ottersbach. He was also influenced by classes and private instruction with Prof. Dieter Kurz, Veronika Stoertzenbach, Prof. Nicole Corti and Prof. Manfred Schreier.
In 2011, he finished his MA studies in theology and German philology at the University of Tübingen, Germany. He is currently studying with Prof. Michael Alber at the University of Music, Trossingen, doing his MA program in conducting (orchestral and choral studies). Prof. Mitsuko Shirai and Prof. Andreas Reibenspies both instruct him in vocal theory and practice.
Philipp regularly conducts the University Choir, the University Chamber Choir and the University of Music orchestra. He has conducted such works as the Symphony of Psalms, by Stravinsky, Elijah (Elias) Oratorio by Mendelssohn and Schubert's E-flat major Mass.
As conductor of the men's choir CalvVoci, Philipp Klahm and his choir were awarded the 3rd place in the National German Choir Contest (Weimar, 2014). He is a well-known conductor and vocal instructor, and he regularly performs with CalvVoci and his other choirs in Stuttgart and Karlsruhe area.