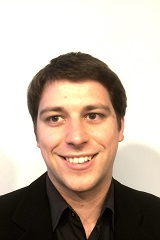 Rainer Hoffmann (1984, Germany)
Since 2012 Rainer Hoffmann has been studying Master Conducting with special focus on choir leading at the Hochschule für Musik in Trossingen (Germany). Before that he studied jazz and popular music in Trossingen as well and Schulmusik at the Hochschule für Musik Freiburg.
Michael Alber, Morten Schuldt-Jensen, Sebastian Tewinkel and Manfred Schreier are counted among his teachers.
As an active participant Rainer Hoffmann joined master classes of Wolfgang Schäfer, Dieter Kurz, Morten Schuldt-Jensen and Tobias Hiller. He gained very special influences on his work and studies from Dan-Olof Stenlund.
R. Hoffmann works with the choir, the chamber choir and the orchestra of the Hochschule für Musik Trossingen on a regular basis. Since 2012 he is a research assistant for the subject of conducting and took over the leadership of the choir at the department of Musikdesign in 2013.
In the same year he assisted Michael Alber in rehearsing Mozart's adaption of Händel's Der Messias with the chamber choir of the University.
As a jazz pianist Rainer Hoffmann works primarily in the field of education and teaches at theMusikschule Freiburg. He studied with Ralf Schmid and Paul Schwarz. As a part of masterclasses he played next to Dusko Goykovich and in 2011 at the Klassikfestival Sommersprossen in Rottweil next to Daniel Schnyder and Ingo Goritzki.