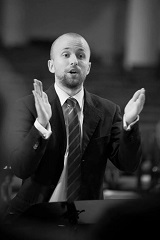 Mārcis Imants (1986, Latvia)
Mārcis Imants has graduated Riga Dome Choir School and Jāzeps Vītols Latvian Academy of Music (conducting pedagogues V. Bernhofs, M. Sirmais, prof. J. Lindenbergs, asoc. prof. A. Vecumnieks).
M. Imants has participated and gained awards in various choir and symphony orchestra competitions across Europe (G. Mahler Bamberg Symphony orchestra, D. Mitropoulos Athens orchestral conducting competitions); Budapest (3rd place), Wroclaw (2nd place), Latvia (1st place), Austria (German Choir Association's special prize) choir conducting competitions. Was a member of Hoertnagel (Germany) concert agency.
M. Imants has attended E. Ericson, K. Thomas, L. Koehler, Y. Simonov, K. M. Chichon master classes and this October also J. Panula master class with Janacek philharmonic orchestra (Czech Republic).
He has conducted choirs Dziesmuvara, choir of Norden countries gymnasium in Riga, Saulkrasti mixed choirAnima, mixed choir of Jāzeps Mediņš Riga Music school (conducting teacher, conductor) and mixed choir of University of Latvia Juventus (was music director, conductor). Notable awards with Juventus: Grand Prixin competition Silver Bellsin Daugavpils (Latvia), 1st place in Ohrid choir competition (Macedonia), Grand Prix in S. Simkus competition (Lithuania), 1st place in Juventus competition (Lithuania) and 2nd place in Maasmechelen competition (Belgium).
M. Imants has collaborated with orchestrasSinfonietta Riga, Sinfonia Conertante, the Latvian National Symphony Orchestra, D. Mitropoulos competition orchestra, K. Thomas masterclass orchestra, Bamberg Symphony orchestra, A. Dombrovskis Music School string orchestra (was its music director).